PIANIST


MATEUSZ
DOBROWOLSKI
"Music is the speech of the sound"
said master Nikolaus Harnoncourt.


Musician is a person
whose task is to convey this "speech" to the audience,
with awareness that it has to be understood.
"Classical music
is boring"
"this statement I often hear from people who don't interact with this area of art and somehow I agree with them.

Listening to classics by a person who doesn't know "what it says" must be an unpleasant experience.

Like a movie in a foreign language without subtitles or voice-over.
As a performer,
I rejected the polish term
"serious music"
because it does not reflect the essence of this art area that I practice. Music is variable.

Music is like our life, it consists full spectrum of emotions, from the most comic to the darkest ones.

My job is to guarantee the audience the comfort of understanding the jocularity or nostalgia of a given piece of music through appropriate lecture.

I am not afraid to reach for unusual pieces of music, film music repertoire, or also for a Toy Piano. Music, even classical is to serve entertainment.
About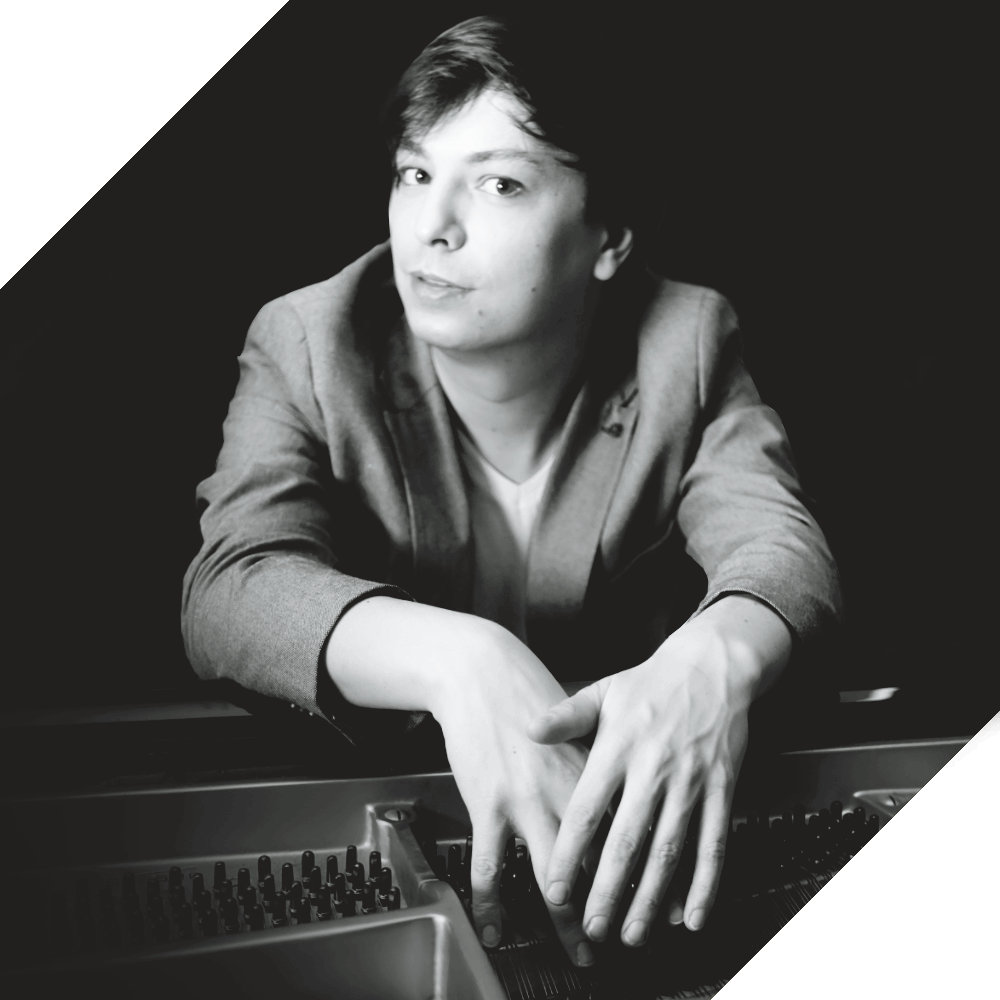 Mateusz
Dobrowolski
Mateusz Dobrowolski is a pianist, currently a Ph.D student at the I. J. Paderewski Academy of Music in the piano class of prof. Alicja Kledzik.


He mastered his piano skills under the supervision of prof. Catherine Vickers (Germany) and he also took an active part in the master courses conducted by prof. Martin Hughes (Austria), prof. Ronan O'Hora (UK) and prof. Maurizio Barboro (Italy).

He is a laureate of many international piano competitions, for example won 1st. prize at the 11th International Piano Competition "Pietro Argento" in Giola del Colle, also in 2013 he was selected as a representative of Poland for the Lions Club Europa Forum, and in 2017 he got an honorable mention at the 3rd International Cochran Piano Competition.

The pianist recieved a scholarship from the Minister of Culture and National Heritage for his artistic achievements. He presented his interpretations in many countries such as Italy, Croatia, Turkey, Singapore and Germany, performing repertoire from baroque to contemporary and film music.
repertoire
B. Bartok
Bourlesque op. 8c (un peu gris...)
Evening in the village
L. v. Beethoven
Sonata c sharp minor op. 27 no. 2
Sonata d minor op. 31 no. 2
Sonata G major op. 49 no. 1
Sonata g minor op. 49 no. 2
F. Chopin
Ballade F major op. 38
Etudes op. 10 no. 4, 5, 7, 8, 12
Fantasie f minor op. 49
Fantasie-impromptu op. 66
Nocturnes: D flat major op. 27 no. 2, c minor op. posth, c sharp minor op. posth.
Polonaises: A major op. 40 no. 1,­ A flat major op. 53, b flat minor op. posth.
Scherzo b flat minor op. 31
Sonata b flat minor op. 35
J. Cochran
Animation Suite
Prelude no. 5
C. Debussy
Preludes: la cathedrale engloutie, les collines d'anacapri
J. Haydn
Sonata D major Hob. XVI/4
Sonata c minor Hob. XVI/20
Sonata b minor Hob. XVI/32
Andante and variations f minor Hob. XVII/6
F. Liszt
Apres une lecture du Dante, sonata quasi fantasia
Hungarian rhapsody no. 6
F. Mendelssohn
Song without words g minor op. 102 no. 4
Variations Serieuses op. 54
W. A. Mozart
Piano concerto b flat major KV 595
Variations Ah! Vous dirai-je Maman
M. Ravel
Gaspard de la Nuit: Ondine, Scarbo
Jeux d'eau
M. Rimski-Korsakov/ S. Kursanov
Concert Paraphrase "Sheherazade"
E. Satie
6 Gnossiennes
3 Gymnopedies
Sonatine bureaucratique
Tan Dun
8 memories in watercolor op. 1
V. Gryaznov - transcriptions
C. Debussy, Prelude a l'apres-midi d'un faun
M. Glinka, Valse-fantasie